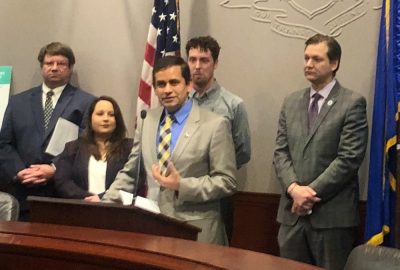 A just-released report by CAHNR's Zwick Center for Food and Resource Policy, Impact of the Green Industry on Connecticut's Economy, highlights the economic importance of ornamental horticulture in our state.
"While every sector of the agriculture industry is important to the economy of Connecticut, ornamental horticulture currently accounts for more than half of the state's agricultural sales," says Rigoberto Lopez, Richard DelFavero Professor in the Department of Agricultural and Resource Economics (ARE). "The green industry should be recognized properly as an integral part of Connecticut's agriculture."
Chris Laughton, ARE master's candidate and director of knowledge exchange at Farm Credit East, completed the project as an independent study under the supervision of Lopez. Laughton brings his own horticultural and business experience to the project, having worked in his family nursery business and having earned a degree in horticulture from Cornell and an MBA from UMass Amherst.
The study was requested and funded by the Connecticut Nursery and Landscape Association (CNLA), with input from Extension Educator Victoria Wallace and CNLA president and legislative board coordinator Dustyn Nelson.
The total economic impact to the state from the green industry totaled $4.7 billion in 2017. This data is based on year-end 2017, the last census year for the USDA Census of Agriculture. "It's a significant contribution to the economy of Connecticut," Laughton says.