Faculty & Staff Monthly Newsletter
September 6, 2022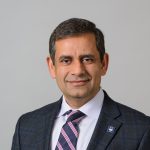 Dear Colleagues,
Move-in weekend: check.
Syllabi and course plans: check.
First week of classes: check.
With that, and many other checked boxes, we've embarked on another academic year. For some of us, this is old hat, something we've experienced dozens of times before. For others, this may be the first semester at UConn as a faculty or staff member. Regardless of your role or how long you've served in it, this is an exciting time for everyone in higher education. It's a chance for the CAHNR team and our students to grow, explore new interests, and make connections that could last a lifetime. I know we're all ready for the promise that a new year brings - even if it also brings more meetings and deadlines too.
Here's hoping this year starts of with a bang (or maybe a pop?) for all of you. Thank you for your hard work and commitment to the CAHNR mission.
Best,
Indrajeet Chaubey
Dean and Director
Have an idea for the newsletter? We are grateful for the creativity and diverse opinions of our College community.
Featured Story of the Month
UConn Researcher Explores Power-Based Exercises for Improving Knee Pain
Through a $1.5 million grant from the Department of Defense, Neal Glaviano will investigate if incorporating power-based exercises into treatment will provide better long-term outcomes for people with patellofemoral pain
Fiscal year 2021-22 set many records for the College of Agriculture, Health and Natural Resources (CAHNR) in multiple aspects. Please join me in congratulating everyone at CAHNR for your role in these successes!
We made substantial progress in each of CAHNR's five strategic priorities: Ensuring a vibrant agricultural industry and sustainable food supply; Enhancing health and well-being locally, nationally, and globally; Promoting diversity, equity, and inclusion through antiracist approaches; Fostering sustainable landscapes across urban-rural interfaces; and Advancing resilience and adaptation in a changing climate.
Through 16 BS/BA, three Associate of Applied Science, 27 minors, and 18 graduate degree options, CAHNR continues to be a student-focused college providing life-transformative education to our students. We offered scholarships totaling ~$900,000, the highest in our history, and increased the affordability and accessibility of a CAHNR education for our students and their families.
Our faculty continued to excel in research productivity, receiving $37 million in extramural grant support and nearly $28 million in research expenditures, the highest ever for CAHNR. Scholarly output included 397 peer-reviewed research articles, nine patents, three books, 22 book chapters, and more than 400 scientific presentations, abstracts, and posters. Our faculty continue to attract national and international recognition, with six faculty becoming fellows of prestigious professional societies, four faculty with national awards, and two faculty named among the world's most cited researchers. We provided $800,000 in seed and equipment funding through internal competitions to enable research excellence. Additionally, we initiated a program to increase the submissions of large, multi-disciplinary proposals.
The impactful work conducted by CAHNR Extension continued to reach every Connecticut town and city, strengthening communities in our state and beyond. CAHNR Extension educators understand the challenges faced by our communities and work collaboratively to co-create solutions for the critical issues they face. For example, our programs reached ~158,000 residents in 2021 through 462 unique programs and 733 learning events. Our Extension outreach enjoyed great trust and support from the community, as shown by 2,864 volunteers contributing more than 156,000 hours of their service.
We have initiated a multi-pronged approach to affirm our commitment to diversity, equity, inclusion, and justice (DEIJ). Approximately 38% of our undergraduate students are non-white and represent the highest racial/ethnic diversity in the last decade. Our faculty have received multiple training grants to increase the representation of minority students, including Native American students in STEM fields. We are one of the few colleges funded by the USDA to recruit Native American students to our two-and four-year programs. Our DEIJ efforts transcend beyond UConn and include the Connecticut communities we serve. For example, we worked closely with the Mashantucket Pequot leaders to create a Tribal Department of Agriculture.
Our challenges include inadequate infrastructure, lack of laboratory space to continue to recruit world-class researchers, strategically replacing a relatively high number of faculty and staff who retired in FY22, and an uncertain budget environment. We plan to work closely with UConn, state and federal agencies, and industry to address these and other operational needs to continue excellence in teaching, research, and extension missions while creating a diverse, inclusive, and anti-racist College.
Welcome to New Colleagues
CAHNR Welcomes 16 New Faculty Members for Fall 2022
We are thrilled to welcome new faculty across the College whose extensive knowledge, commitment to outreach, and dedication to teaching will help us to strengthen the experience CAHNR provides to our students.
Learn more about the faculty joining CAHNR. 
New Staff
Stacey Lackman, CAHNR Research & Extension, Administrative Program Support I
Guess what's in this picture!

How well do you know CAHNR and its related landmarks? Test your knowledge by identifying the picture on the left. Next month we'll reveal the answer and select one lucky contestant to win some College swag.
Strategic Vision Implementation Update
The Strategic Vision Implementation Committees (SVIC) play a pivotal role in addressing critical issues facing our state, country, and world, as well as elevating CAHNR's presence in the university, community, and beyond. We appreciate your teaching, research, and engagement that contribute to these successes. The work conducted by SVICs are re-commencing after the summer break, and we have two requests for faculty and staff in the CAHNR community.
Contribute to the SVIC groups. You can join one or more of the committees using an SVIC sign-up form on the CAHNR website.
CAHNR developed a Networking Tree with Connect Extension to help facilitate communication and collaboration among each of the SVIC groups. Everyone is welcome to join; Connect Extension is merely a hosting platform. Please complete this survey, learn more about the process, and visit the networking trees.
We appreciate your continued efforts with the SVICs and are looking forward to the fall semester.
Update from the Business Office
Plugging a newsletter in a newsletter? That's some meta stuff, right there! Each month, the team in CAHNR' Business Office will update the CAHNR community on deadlines, policies, procedures, staffing changes, and all kinds of other useful information. Visit the CAHNR Business Office site for more.