Faculty & Staff Monthly Newsletter
December 5, 2022
Dear Colleagues,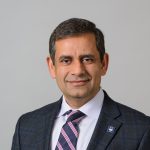 Well, we went from literal plates full of turkey, stuffing, and pie to figurative plates full of exams, grading, and year-end activities. With the Thanksgiving recess a distant memory, we all have our eye on the prize: the end of the fall semester and the arrival of the holiday season. Soon campus will once again be quiet, as students head home and faculty and staff take some well deserved time off.
All work and no play isn't a recipe for success, so luckily there are plenty of opportunities for celebration at this time of year too. This past weekend, the College came together to recognize student scholars, their families, and generous donors. It was wonderful to return to an in-person event led by the Office of Academic Programs and Associate Dean Kristen Govoni. Thank you to everyone who made time to join us for this honored College tradition.
Later this week, we will recognize faculty and staff who won grant awards in 2021 and 2022. Thanks to their dedication to innovation and discovery, CAHNR's research enterprise continues to thrive and grow.
And last but certainly not least, we invite the entire College and emeritus faculty to join us on December 19 from 12:00PM to 2:00PM, following the Fall Semester Meeting. Please remember to RSVP by Wednesday December 7 to attend the luncheon. 
As always, thank you all for your hard work. Let's all Keep Calm, and "CAHNR" On.
Best,
Indrajeet Chaubey
Dean and Director
Have an idea for the newsletter? We are grateful for the creativity and diverse opinions of our College community.
Featured Story of the Month
Sustainable Landscapes
A CAHNR Guide to Picking the Best Tree for your Holiday Traditions
Heading out to a local tree farm? CAHNR experts Mark Brand and Tom Worthley give you the inside scoop on picking the perfect pine (or spruce or fir) for your holiday
CAHNR Annual Report Highlights
UConn Extension
UConn Extension has over 100 years of experience strengthening communities in Connecticut and beyond. Programs delivered by Extension reach individuals, communities, and businesses in each of the 169 municipalities across the state, with no fewer than seven programs in each municipality and some having 33 programs or services. Extension outreach covers the full spectrum of topics expressed in CAHNR's strategic vision initiatives. By leveraging Extension's unique place-based approach, CAHNR Extension educators understand the particular challenges that Connecticut faces and co-create solutions for critical issues within those communities. As a result, CAHNR Extension programs reached 157,653 residents in 2021 through 8,859 hours – the equivalent of 369 days – of instruction by Extension specialists across all program areas.
CAHNR Extension expands our outreach far beyond expectations thanks to $24.4 million in additional support from state and federal grants, government contracts, and foundation funds. Extension's ability to serve all 169 municipalities is also augmented by 2,864 active volunteers. These volunteers contributed 156,597 hours – the equivalent of approximately 18 years – across all Extension programs in 2021-2022, with a value of $4.4 million to the communities served, according to the Independent Sector.
The impact of CAHNR Extension is also expanded thanks to collaborations with state agencies, non-profit organizations, businesses, and municipalities. CAHNR Extension augments and enhances the services our partners provide to find solutions to the critical issues facing our state through innovation and cooperation.
Thank you to all of the staff and faculty connected with Extension for your role in fulfilling our land grant mission!
Welcome to New Colleagues
Kaylee Carlisle, Hartford County Extension, Educational Program Assistant 1
Edward Harris, CAHNR Business Office, Financial Analyst 1
Then and Now - CAHNR Classes

historical i 665 f
No CAHNR classroom is alike. That's as true today as it was back in 1942 during a lecture pictured on the left. Today, CAHNR students also have plenty of opportunity to get hands on experience, like in the photo on the left taken during a biology lab in the Allied Health Sciences program in Waterbury.
Strategic Vision Implementation Update
[TBD - waiting on content from Elaine and Stacey]
All committees are reconvening early in the fall semester. We invite you to learn more and join to share your expertise!
Update from the Business Office
How good are you at PowerPoint? I Excel at it.
 There's more fun in this month's edition of the CAHNR Business Office newsletter. Each month, the team in the CAHNR' Business Office will update the CAHNR community on deadlines, policies, procedures, staffing changes, and all kinds of other useful information. Visit the CAHNR Business Office site for more.