Annual Graduate Student Research Forum
Each year during the spring semester, the College of Agriculture, Health and Natural Resources sponsors a Graduate Student Research Forum. This event is an opportunity for graduate students to present their research, sharpen their skills, and compete for prizes. The 2021 event will be held Tuesday, April 13 and Wednesday, April 14.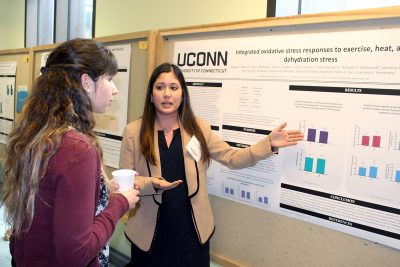 The forum provided the opportunity to share my research, gain valuable reviews, and network with faculty and peers."
2019 Graduate Student Participant
Save the Date, Tuesday - Wednesday, April 13–14, 2021
Schedule of Events
Tuesday April 13, 2021 9:00 am-12:30 pm 
 9:00                Welcome and Opening remarks: CAHNR Dean Dr. Indrajeet Chaubey
 9:15                 Keynote Talk:  "Moving Innovation from Concept to Impact" Dr. Mostafa Analoui, Executive Director, Technology, Commercialization Services, UConn
10:00  - 12:30   Concurrent Graduate Student Oral Presentations, schedule of presentations

Wednesday, April 14, 2021 9:30 am- 11:30 am
9:30                   Welcome: Dr. Kumar Venkitanarayanan
9:45  – 11:30      Concurrent Graduate Student Poster Presentations, poster program

11:30                  Closing Remarks
The poster session will be held on the virtual platform Gather.  Gather is an online conference platform that allows students to be "standing"  by their posters, attendees can talk to students, and each other just by moving their Avatar around our virtual poster hall.  Please review the instructions to participate in the Gather CAHNR Graduate Student poster session, Gather Instructions.
The link to join the Gather Poster Session is posted below.