Advancing Adaptation and Resilience in a Changing Climate
Climate change is increasingly affecting Connecticut's communities as well as land and water resources. There is a growing threat for residents and those whose livelihoods directly depend on natural resources including flooding, more intense storm events, heat waves, invasive and nuisance species, and trees/power infrastructure. Unfortunately, many residents still do not understand the causes and implications of climate change and adaptation strategies, nor do they have all the tools and resources needed to address these new climate challenges. To address these growing challenges, researchers, practitioners, and stakeholders must work together to create and maintain a sustainable environment, a robust economy, and a higher quality of life for current and future generations.
Our climate adaptation and resilience programs seek to:
Promote human, plant, and animal health that is resilient to the effects of climate change

Promote resilient and well-adapted Connecticut communities and economies and enhance the management, conservation, and protection of ecosystems

Engage and educate individuals, communities, and partners in climate adaptation, integrating research and outreach to ensure informed decision making

Enhance the management, conservation, and protection of ecosystems
In the news
Climate Adaptation
The sea level is rising, and the clock is ticking in the effort to make Connecticut's coastline more resilient in the face of climate change. CAHNR researchers are working with Extension educators from Connecticut Sea Grant to help make these areas more resilient to climate change.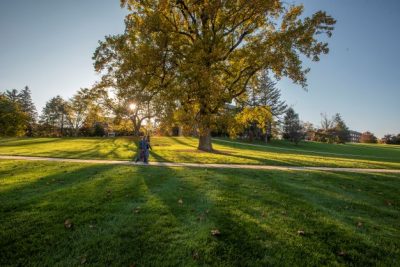 As part of this strategic area's visioning effort, there has been significant focus on big ideas that will be achieved through many little steps in the right direction. From developing new knowledge and technologies, to enhancing individual and collective adaptive capacity and helping the business community prosper in a changing climate, we're continuing to work towards sustaining the natural resources that are critical to a healthy environment.
Communication, Collaboration, and Capacity Building
Launched networking trees for each strategic vision implementation committee in 2022 with the goal of connecting all faculty and staff for great collaboration and capacity building
Began development of a climate and resilience minor for undergraduates
Added three new faculty positions focused on climate research: one on climate change science and two on sustainable and resilient communities.
Education
Working to create an undergraduate climate and resilience minor
Addition of three faculty positions focused on climate, as well as sustainable and resilient communities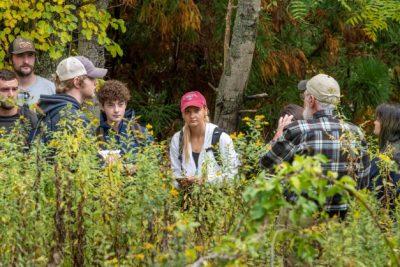 Moving forward, the Climate Adaptation and Resilience strategic vision area will seek to build on existing momentum and further establish the College's expertise in research, education, and extension outreach that will help our communities become more prepared, informed, and resilient in the face of a changing climate. Some efforts include:
Developing and implementing heat safety policies in sports that enable athletes to adapt to hot and humid environments by phasing in things like exercise intensity, equipment worn, and frequency of rest breaks
Helping communities and individuals design, implement, and adopt adaptation strategies necessary for critical ecosystem functions that support water quality, recreation, and commercially or residentially valuable built assets
Developing potential new crops/landscape plants for a warming climate that are economically feasible and/or provide food or pollinator benefits for native species
Support CAHNR's Strategic Vision
CAHNR faculty and staff are strongly encouraged to join one of the strategic vision implementation committees to lend their perspectives and ideas to this College-wide initiative
Anita Morzillo
Associate Professor of Natural Resources and the Environment