Fostering Sustainable Landscapes at the Urban-Rural Interface
Connecticut is home to diverse landscapes, from vibrant urban centers to rural farms and miles of beautiful coastline. With this diversity comes the need for collaborative, cohesive, and strategic planning and an informed, environmentally aware citizenry to protect these priceless resources. With the College of Agriculture, Health and Natural Resources's (CAHNR) expertise in natural resource studies as well as landscape architecture and close ties to the community through our extension outreach, we are working towards holistic, sustainable landscapes that both preserve and enhance our ecosystems and meet society's needs.
Improve quality of the state's waters, including the Long Island Sound
Develop environmentally aware citizens that participate in sustainable, healthy lifestyles
Optimize the sustainability of interconnected food, waste, housing, transport and energy systems
Sustain and enhance ecosystem services
Promote informed community development, landscape planning, and land use management
Advance small acreage, intensive agriculture to increase food production near consumers
Landscape Lunch and Learn Spring 2023
The first Landscape Lunch and Learn of the spring semester is Friday, February 10th at 12 PM. Dr. Chandi Witharana's topic is Drones: The Eyes in the Sky. We invite you to join us virtually for a 10-minute presentation, followed by 20 minutes of discussion. Join us at https://uconnvtc.webex.com/meet/sustainablelandscapes
Upcoming presentations include:
February 22nd - Umekia Taylor - Community and School Gardens for Healthy Lifestyles
March 6th - Emily Wilson - Connecticut's Statewide Geographic Data - What's New & Coming
March 22nd - Dr. Wei Ren - Climate-Smart Agriculture to a Climate-Smart Landscape
April 7th - Dr. Sohyun Park - Municipal Land Bank Properties
April 21st - Jacqueline Kowalski - Urban Agriculture - Successes and Barriers to Sustainability
We look forward to seeing you at our Landscape Lunch and Learn again this semester, and building off the engaging conversations we had last year.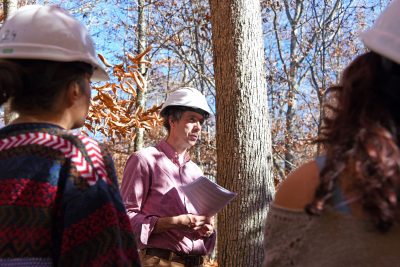 The strategic vision committee focused on sustainable landscapes identified areas of need and strength, which guided activities in the first year of work. During the second year and beyond, this group is working on two key areas:
Enhancing communication and collaboration within the College: To address this issue, our team has created a "Sustainable Landscapes Network" of faculty working on issues related to this area. To facilitate collaboration, the Sustainable Landscapes committee hosted "Lunch and Learn" seminar series, open to everyone in CAHNR. This platform allowed diverse faculty members to share aspects of their work, followed by interactive discussion. The series allowed connections to form which might otherwise not have been possible. In addition to hosting similar sessions in the future, the Sustainable Landscapes group will expand the series to include more interactive activities outdoors.
Large grant proposal: A team composed of Sustainable Landscapes committee members will seek to submit to a large proposal for extramural funding in order to expand resources for this focus area in CAHNR research, education, and extension outreach.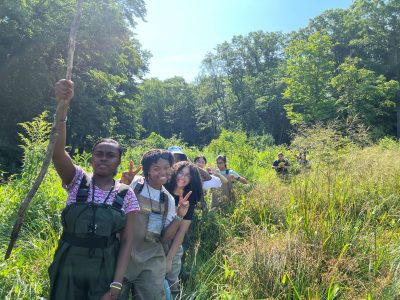 As the College continues to explore needs, strengths, and potential partnerships related to sustainable landscapes, this strategic vision implementation committee will seek to:
Establish capacity for regional science
Organize a standing group of unbiased experts that can advise policy makers and regulators regarding development, water quality, and land use policy decisions
Form advisory group to consolidate and coordinate existing environmental justice efforts and grow our efforts here
Support CAHNR's Strategic Vision
CAHNR faculty and staff are strongly encouraged to join one of the strategic vision implementation committees to lend their perspectives and ideas to this College-wide initiative