Mindfulness in the Dining Hall
UConn Extension, the Department of Nutritional Sciences and UConn Dining want to help you practice mindfulness in the dining hall. Join us as we share new information and host competitions for UConn students.
The Secret to Serving Size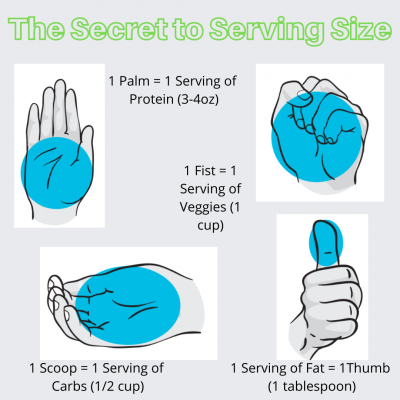 Do you ever wonder if you are eating enough? Or eating enough of the right foods? Use this portion guide when filling your plate or to-go box in the dining hall. Everyone has different nutritional needs but a good rule of thumb is for each meal to consume
1-2 palms of protein

1-2 fists of veggies

1-2 scoops of carbs

1-2 thumbs of fat dense foods
If you are a more active person increase these amounts for daily intakes.
Active Males
6-8 palms of protein

6-8 fists of veggies

6-8 scoops of carbs

6-8 thumbs of fat dense foods
Active Females
4-6 palms of protein

4-6 fists of veggies

4-6 scoops of carbs

4-6 thumbs of fat dense foods